I decided to go out on my own on Friday. Most of the WIN group was going to a Naval Museum and I just wanted to wander.
My first stop was a yarn store, of course, in Port Orchard. Was I surprised to pull up and find that this was the author
Debbie Macomber
's, A Good Yarn, shop! She has modeled the yarn shop after her Blossom Street novels. She writes about the characters that come to the shop in her knitting novels. In the novel, Twenty Wishes, she stated that she wish she had a yarn shop. Well she made that wish come true.
Nuno Felting!
She has purchased two Victorian looking building that are across the parking lot from each other. The blue one is the yarn shop and the pink one is tea room and gift shop. When you walk into the pink one, you are greeted with Debbie's books which are signed. On the left is the tea room and on the right the gift shop. Debbie's daughter, Jody, runs and manages this building. I did not have a chance to talk to her because she was surrounded with people wanting to talk.
My daughter had told me about a little town called
Bainbridge Island
so that was my next destination. How adorable!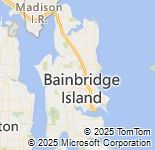 It was only about an hour away so it was a pleasant drive with views of the sound. As I was coming into town, I saw the
Bainbridge Island Museum of Art and Bistro
. The sign said it was free so I parked my car at the end of town where there was 4 hour free parking spaces and slowed wandered toward the museum while checking out all the shops. The quilting store had some beautiful fabric but I really wanted to see the museum and I am glad I did.
I stopped at the front desk to get information and was told to see the film first about Jenny Andersen, the wood fired stoneware artist, because it will really give me an appreciation of her work. They also told me that Churchmouse Yarn and Tea Shop was located in the town and I should visit. I have been purchasing Churchmouse knitting patterns for years so this was definitely going to be a stop.
I truly enjoyed the film about Jenny Andersen. She likes throwing pots and that is how she started. Her wood fired ceramic vessels and sculpture were so detailed that you thought you were actually looking at flowing cloth and mask.
The next exhibit was in the Sherry Grover Gallery. The subject title was "You Can Judge A Book by its Cover". This was a collection of International Designer Bindings. Some of the books were too beautiful to put out for anyone to touch and could only be in a museum.
Hanging in the top floor entry level was beautiful mixed media and patterned prints on paper called Serigraph. The artist, Romson Regarde Bustillo, is from the Philippines.
Max Grover, a children's author and collage and acrylic artist also had an exhibit.
I finally tore my way away from the museum and started looking for more shops and lunch. When I got to the bakery, I saw a sign that said
Churchmouse Yarns and Tea
. That ended the need for lunch. The staff was so friendly.
After I got my yarn fix, I started wandering the streets again and found these trees with a box of paper and pencils for you to write your thoughts.
The chalk art was not done by professionals but it was still cute.
The Art festival was quite nice. I brought a bat to hang by the door.
Monday is Mt. Rainier. My ankle has been hurting. I do hope I will be able to hike. Thankfully, I now have my own trekking poles so we'll see.